Thank you for visiting the  webspace for Rema Burundi (previously Rema Ministries) in Burundi and Rema UK (in the UK!)
Julie and Annabelle have been raising money for Rema Burundi by running the Birmingham Half-Marathon on 14th October! Find out more here
Theo Visit to the UK 2018
Theo Mbazumutima (director of Rema Burundi) is visiting the UK 31st October – 6th December 2018. He has a full programme spending time with Rema UK, Mission Possible UK, Mission International, speaking at the Africa CMS Conference at Swanwick 9th – 11th November, and visiting various friends. His tour will take him to England, Scotland and Northern Ireland. He will be sharing more of his amazing testimony as told in his biography 'My Country Wept', and sharing about all the developments at Rema Burundi and challenges faced in country at this time.
Theo's biography is out now. One man's amazing story of how God protected and provided for him in the midst of the Burundian civil war and brought him to a place of grace, forgiveness and restoration.

Theodore Mbazumutima was forced to flee from his native Burundi when tensions between Hutus and Tutsis increased after the death of Hutu President Ndadaye. His dangerous and incredible journey fleeing civil war is told in this page-turning, gripping account of God's miraculous intervention, protection and guidance.

Theo is now Director of Rema Burundi (previously Rema Ministries), which has established itself as a peace-building organisation committed to the rights of people in forced displacement situations, particularly refugees, the internally displaced and returnees.
Contact us at info@remauk.org to order a copy or order from Amazon.
Autumn 2018 newsletter
available to download and will be sent to our subscribers.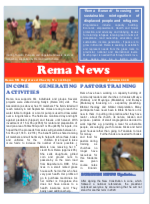 Read previous newsletters now available here.
Read all about our recent projects and activities in News.
Read more about Burundi.
Please contact us if you would like to know more about the work of Rema, we'd love to hear from you.